ANOTHER PLAY!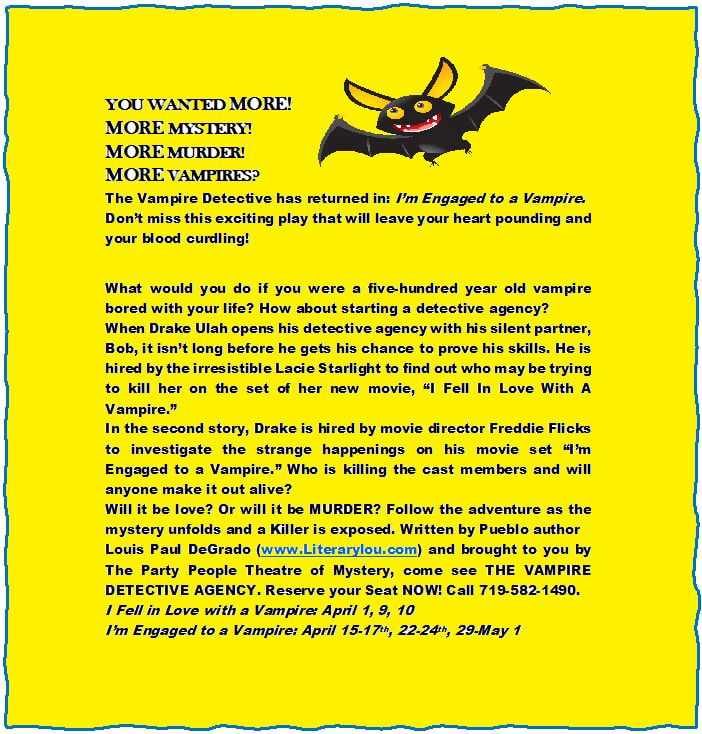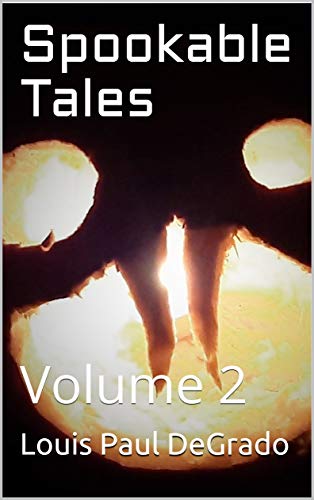 Need a Warm and Cozy Book to read? How about something that keeps you up at night?
What motivation lies behind a cult that is going around the world digging up graves? When officer Jeff Denton is called upon to stake out a cemetery at night, he discovers he is not the only one who has come to investigate and uncover the mystery of
The Graverobbers.
What would you do if you were a five-hundred-year-old vampire bored with your life? How about starting a detective agency? When Drake Ulah opens his detective agency with his silent partner, Bob, it isn't long before he gets his chance to prove his skills. He is hired by the irresistible Lacie Starlight to find out who may be trying to kill her on the set of her new movie, "I Fell in Love with A Vampire." Will it be love? Or will it be MURDER? Follow the adventure as the mystery unfolds and a Killer is exposed in
The Vampire Detective Agency, I fell in love with a Vampire.
In the third and final story, when the priest of a small town comes up missing, a New Minister is sent to take over the church. Is Father Gerald Arriaga ready to confront the dark secret the town is hiding or the evil behind it? Find out in
The New Minister
.
Click here to order!
---
Four times Book of the Year Finalist!!
Best in Juvenile Fiction, Literary Classics Book Award, 2017
FIVE Times Editor's Choice Award!
Click here to See More on youtube
Released July 2020: 13 DAYS! Evil has Returned!
In this sequel to The 13th Month, 2015 Finalist Foreword Review Book of Year Contest, forces of good and evil battle for power. Samar Hamish is an archeologist obsessed with confirming his faith by digging up proof of historical events. He is warned in a dream that he has 13 Days to prevent the Shadows, parasitic creatures waiting inside moments of time to warp reality and influence their hosts. The countdown begins. He seeks out a team made up of a priest, shaman, psychiatrist and a college professor, who have been waging a covert battle against the creatures.
Once banished into another dimension, the Shadows are fighting to take control. A secret plan to send soldiers through a portal to combat the Shadows in their dimension is in jeopardy and may backfire allowing the creatures to enter into the world of humans.
With a limited number of days to react, the team must find a way to stop the plan. First, they must convince a council representing the world's religions to delay the soldiers. They must also confront the demons and tragedies of the past, and learn to trust each other.
Can the team find a way to stop the force that feeds on our own ill-intentions and insecurities or is it too late? What sacrifice must be made to turn back the tide and close the gates of Hell?
"In his page-turning Christian themed novel, The 13th Month, Louis Paul DeGrado offers a fresh take on the theme of demonic powers among us. With its unusual theme, colorful characters and nail-biting plot, this book is sure to please anyone who appreciates a different take on evil."
-bluink Review

"A thriller filled with intrique."
-Clarion Review
Introducing my first Children's book available in both E-format and softback!
Anna is a nine-year-old girl with blonde hair and blue eyes. She goes to Parkview elementary school and has a cat named Rosie. On her ninth birthday, her father made the back room of the house "Anna's Art Center." It's her favorite place to go because in the art center her imagination can come to life. Come along on an exciting adventure full of positive message as Anna speaks with Blue, her favorite crayon, and learns important lesson from True Apple, Communicating Carrot and Cool Celery! You'll have a wonderful time!
Click here to buy the books!
---
The first Slideshow is at Liberty Point, where I spoke to the kids about the force of Imagination, the importance of Reading and performed songs from "The Calling of the Protectors." My favorite elementary school teacher, Jodi Bond, was kind enough to host! The second slideshow is a few years before that at what was Pueblo West Elementary school!

Exist To Inspire!

We inherited the Earth and became the dominant species not because we are stronger than the elephant or bigger than the whale but due our intelligence. It is through this intelligence that we must understand our responsibility to not be takers, but caretakers. Is the world a better place because I am in it? It's not ok to be the best at anything, unless you're also being the best person you can be.


---

Copyright 2001 by Louis Paul DeGrado. No contents of this website may be reproduced,
stored in a retrieval system, copied, or printed for display without written
permission from the author.